Datum / čas
27/03/2022 - 28/03/2022
Celý den
Místo konání
Prostor 8
Kategorie
The ability to cooperate is a crucial, but often overlooked skill in the relationship between therapist and client. Cooperation allows to get from "doing" to "being". And being is the state from where the client can cross the threshold to and achieve desired changes in his life.
The ability to cooperate is part of the genetic makeup of human beings. To be born in a massively fragmented culture and to grow up in a social environment that is not fully satisfying the needs of a baby is causing damage to the natural skill to cooperate. If we want to break that traumatic pattern, which is passed on through the generations, we have to get back to very early experiences and nurture the corresponding developmental steps. This enables the child parts to grow and us to make cooperation a conscious part of our work with clients. 
But how can we do that? 

How can we reconnect to essential parts of our being which are developed before we were able to consciously speak or think? 

And how can we avoid that thinking and speaking is in the way of that exploration. 

Why is the "other" so so important for our connection with the early parts and why it is not possible to do it alone?

How can we work with the paradox of "doing" to get us into "being"?
The goal of the workshop is to enable the therapist to create a reference point of cooperation. And also to support therapists to be able to create a quality of being in session, which allows the client to gain new experiences needed for growing his early stages of development and shifting into greater integrity.
The practical setting of the seminar will allow you to make some new experiences with yourself, your opposite, and the group in an emotional, cognitive,e and physical way. We will pendulate between thinking and sensing, doing and being, following old patterns, and creating new tracks.
Newly acquired experiences, attitudes, and skills will be beneficial for everyone, who consider a relationship with a client an important part of his/her profession.
---
About teacher: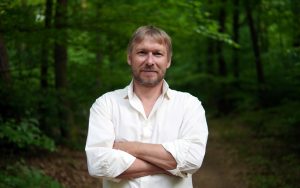 Andreas Huckele is a writer, teacher, systemic supervisor and couple therapist with the focus on the fields of sexuality, trauma, relationship, abuse and communication. He works with individuals as well as with institutions based on a more than 20 year experience in very different settings. He gives lectures at congresses and conferences, lead seminars for professionals and laypeople, work as a supervisor in institutions and is an award-winning author.
His motivation is to connect what is disconnected and to communicate what is unspeakable to make togetherness and cooperation possible to create a mind-heart and body connected field in the presence.
His practical work is completed by the methods of Somatic Experiencing, Ego-State Therapy, Nonviolent Communication, Inner Child Work, Coaching, Systemic Sex Therapy and Systemic Family Therapy.
---
 Registration fee: 
Till February 14th is registration fee 245 euro.
From February 15th is registration fee 285 euro.
Storno policy:  
Till January 31st 2021 we refund registration fee reduced by 10 euro.
From February 1st till March 13th we refund 50% of registration fee.
After March 14th we don´t refund registration fee.
Thank you for understanding.
---
By paying the payment participant acknowledges and agrees with the following:
The seminar does not replace medical or psychotherapeutic care.
The participant undertakes to inform the organizer of any serious physical or mental disability or treatment he of she undergo.
Participation in the seminar is voluntary and can be very experiential.
The participant bears responsibility for everythinkg he does.
The participant can leave the seminar at any time. The fee for the seminar does not return in this case.
The teacher´s right is to terminate the participantš participation if he deems it appropriate. In this case, the subscription fee will be refunded to the participant.
---