When the inner child gets active in the therapist or in the client , the therapeutic session needs an extra portion of consiousness. It is important to know, which one of the ego states is on. The child or the the adult. And that is true for both humans in the room. The therapist and the client. When we know what to do with the inner child of our client, the session will lead more efficient to the goal of the client. And even more important: When we know what to do when our own inner child is starting to get active while we are in charge as a therapist, we do our job in a good way.
Are you sometimes worried about what to do next when you give a session?

 

Do you somtimes feel overwhelmed by the emotions of your clients?

 

Are you sometimes afraid of the topics of your clients?

 

Are you sometimes disregulated when you give a session?

 

Are you irritated by the feelings of your clients or of your own?

 

Do you have moments when you dont know if you are in a childish ego state or not?

 

Do you not know what to do, when your client acts, argues or behaves like a child?

 

Do you sometimes feel, the session is going in a direction you dont want it to go?

 

Do you feel sometimes terrorised by your clients?

 

Do you feel helpless towards the life problems of your clients?
Do you sometimes feel you have no choice when you give a session?
When you answer yes to one or more of these questions, this webinar is for you!
---
Webinar will be held in English with translation into Czech language.
Participants will gain access to stream or download the webinar recording. The webinar will be held on ZOOM video conferencing platform. Technical requirements for using zoom can be found below.
---
Further events with Andreas Huckele:
---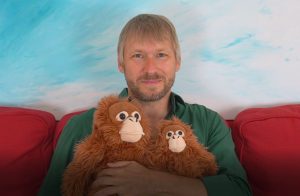 Andreas Huckele is a writer, teacher, systemic supervisor and couple therapist with the focus on the fields of sexuality, trauma, relationship, abuse and communication. He works with individuals as well as with institutions based on a more than 20 year experience in very different settings. He gives lectures at congresses and conferences, lead seminars for professionals and laypeople, work as a supervisor in institutions and is an award-winning author.
His motivation is to connect what is disconnected and to communicate what is unspeakable to make togetherness and cooperation possible to create a mind-heart and body connected field in the presence.
His practical work is completed by the methods of Somatic Experiencing, Ego-State Therapy, Nonviolent Communication, Inner Child Work, Coaching, Systemic Sex Therapy and Systemic Family Therapy.
Andreas' video-invitation for conference presentation and practical seminar
---
Technical requirements for using Zoom:
Zoom is designed to work on most devices. OS Windows, MAC and most OS Linux. Supported by web browsers: Internet Exlorer 11+, Edge 12+, Firefox 27+, Chrome 30+, Safari 7+
You need a computer with at least a 1GHz processor, so in layman's terms: a computer not older than 5 years can handle it with ease.
You need at least 1.5 Mbps to download. Which currently satisfies the vast majority of connections.
If you are unsure about anything, contact us at kraniosakralniasociace@gmail.com
---